Frequently Asked Questions
Q. "How does the Comfort UP hot water circulation pump work?"
A. Grundfos "Comfort" series hot water circulation pumps works in the following manner: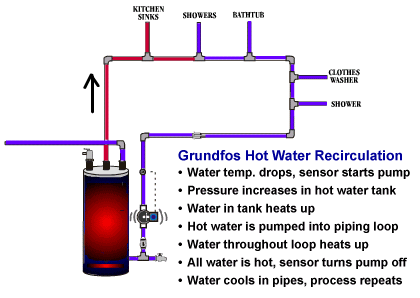 Please note: Unlike the diagram above, the Grundfos UP15-10S "Comfort" series hot water system works in the following manner: The comfort valve is installed under the faucet farthest from the water heater. The UP 15 series recirculation pump moves the hot water from the heater throughout the pipe back to the heater through the cold water line. As the water heats up at the comfort valve, it closes. When a faucet is turned on, warm water is instantly available for use with no waste.
Q. "I'd like to have hot water without much of a wait. How can I do this?"
A. The two easiest solutions are:
A) A tankless water heater at the source.
B) A hot-water recirculation system. This consists of a small pump and a return line from your farthest fixture. The pump mounts near the bottom of your water heater along with a swing check valve (see diagram found on our circulation pump page).
Q. "Does a hot water recirculating system use up a lot of energy?"
A. Both options use energy. But not as much as most people think. On the recirculating system we highly recommend insulating all of your hot water pipes. Also having a timer and/or a thermostat will use even less energy. An electric tankless water heater doesn't use any energy when you're not drawing hot water.
Q. "What is an aquastat?"
A. An aquastat is a thermostat control that turns the pump on or off based on temperature.
Q. "What is the benefit of installing an optional timer or thermostat?"
A. Either one will save energy (and money). The timer only allows the pump to turn on at certain times. So if you only need hot water in the morning, you could set the timer for 6am to 8am. Then the pump would only recirculate the hot water during that time. The thermostat turns off the pump when the water in the pipes reaches a certain temperature. So once the water in the pipe is hot, the pump turns off. When the timer and thermostatic controls are installed together, in series, the circulator operates ONLY at the preset clock times specified by the user AND ONLY when the temperature conditions of the thermostat are met. That is, if either the timer control or the thermostatic control switch is open (off), the circulator will not operate.