Frequently Asked Questions
Q. "What does 'AFD' stand for?"
A. The abbreviation "AFD" stands for Anti-flotation device. In this case it is a collar attached to the bottom of the basin to reduce or eliminate the basin from popping up out of the ground when the water table is high.
Q. "What does 'PSF' stand for?"
A. The abbreviation "PSF" stands for Polyethylene Structural Foam. Polyethylene is a type of plastic that's easily molded and resistant to chemicals. It is used for many purposes, such as making containers, tubes, and packaging. In this case it is whipped for a more rigid, thicker structure.
Q. "What is the difference between Poly Molded basins and Polyethylene Structural Foam basins?"
A. The Poly Molded Basins are made of polyethylene much like the Polyethylene Structural Foam basins are made but without the structural foam addition. Polyethylene Structural Foam basins have a slightly thicker wall than the Poly Molded basins in the larger diameter sizes. All of Zoeller's basins are top quality one piece, seamless construction.
Q. "What is the difference between Polyethylene Structural Foam-Standard and Polyethylene Structural Foam-Deluxe basins?"
A.The Polyethylene Structural Foam-Deluxe basins include a 4" PVC inlet hub. The "Standard" come with a press in style 4" pipe seal hub.
Q. "Do I need to install a vent pipe to the tank?"
A.It really depends on how you plumb the piping to the tank and each situation is different. In many cases with any brand of sealed tank the simple answer is yes as you need air to displace the volume of discharge. An AAV may be used in many areas of the country but local codes always prevail and so best to check with your local code authorities before purchasing the enclosed tank system/s such as these shown on this page.
Q. "What is a vortex impeller and what does it do?"
A. A vortex impeller handles debris better than other impellers. Due to the design of the impeller itself, a whirlpool, or vortex, action is created to move the material, resulting in less clogs as vortex impellers are recessed and generally do not come in contact with solids at all. By contrast vane, or two-vane, impellers are in direct contact with the solids, and so can be more prone to being clogged. Below is an example of a vortex impeller.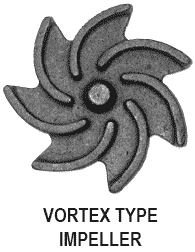 Q. "Can I mount the check valve horizontally?"
A.It is recommended that the check valve (or check/ball valve combination) is mounted vertically, however each can be mounted horizontally. The installation for each unit is similar; the check valve hinge must be at the top.
Q. "What does it mean when it states 10 ft. stack?"
A.This means that the basin can withstand water pressure from a 10 ft. vertical pipe (stack) without leaking.
Q. "Some of the basins you have listed mention 'L.A. code'. Does this mean these are the only type of basins that can be installed in Los Angeles?"
A.Not necessarily. Los Angeles requires cast iron piping be installed for most commercial drains, and these basins come with a 4" cast iron hub for ease of installation. It is always best to consult your local building code authority before purchasing a system if you have any questions regarding type of drain material that may be required.
Q. "What does it mean when it states 18' shut off head?"
A.It means the pump will not move water beyond that point in height. If the pump shut off height is 18 feet and you put a pipe 17 feet 11 inches high straight up from the pump, water would still trickle over and out of the pipe. If you put a pipe at 18' straight up from the pump, while the pump continues to operate, water will just stay at that height in the pipe.
Q. "Why is a 3/16" vent hole pre-drilled into the discharge tube?"
A.A 3/16" vent hole, also known as an air bleed, is drilled into the discharge pipe located in the basin between the pump and check valve to prevent the pump from becoming air locked. This hole is normally drilled a few inches above the pumps "on" level. When a check valve is installed on the discharge pipe, air can be trapped under or behind the check valve. This trapped air blocks the pipe when the pump turns on preventing water to be pumped beyond the trapped air. If a pump becomes air locked it will continue to run but not push water, causing the pump to eventually burn out. This vent hole (air-bleed) allows the air to escape into the basin and helps prevent the pump from burning out.