Frequently Asked Questions
Q. "What is UL Listing?"
A. The Underwriters Laboratory was once an insurance industry organization, but currently it is a non-profit and tests electrical components and other equipment for potential hazards. UL is the trusted source across the globe for product compliance.
Q. "What does 'service factor' mean?"
A. The 'service factor' is a multiplier that indicates the approximate overload that a motor can handle. A service factor of 1.0 can handle no more than it's defined horsepower on a continuous basis, while a service factor of 1.2 can safely handle intermittent loads of 20% more than it's defined horsepower.
Q. "What are buna-n (nitrile) rings?"
A. Buna-n or Nitrile rings have excellent resistance to petroleum-based oils & fuels, water and alcohols. They also have good resistance to acids and bases, except for those that have a strong oxidizing effect.
Q. "What's the difference between an automatic and non-automatic pump?"
A. An automatic pump has a built in float switch that will turn on the pump automatically at a fixed water level. After the water is pumped out to a certain water level (a preset level), the pump will turn itself off. A non-automatic pump has no integral switch, and so would turn on when plugged in, and off when unplugged. A separate control like a piggyback float switch (variable level float switch) can be installed on non-automatic pumps to provide a switch with flexibility for pumping range adjustments.
Q. "How does a VLFS (variable level float switch) work?"
A. The pumps that come with a variable level float switch are non-automatic pumps. You just attach the float switch and the pump will behave like an automatic pump. However, the VLFS allows you to specify the water level (between 6" and 36") that will turn on/off your pump. This is different than the normal automatic pumps that have a preset water level that turns them on and off. Since the VLFS is detachable, the pump can also be used as a non-automatic pump.
Q. "What's the difference between the VLFS (variable level float switch) and the wired float switch?"
A. The wired float switch is the same thing as a VLFS except that it is connected directly to the pump. The VLFS is connected to the pump through a cord.
Q. "What is the difference between a sewage ejector pump and a grinder pump?"
A. A sewage ejector pump has impellers that enable the pump to pass a predetermined size of solid matter without clogging the discharge. A grinder pump has cutter blades that macerate and shear waste solids and items not normally found in sewage, but may get flushed down the toilet. These smaller particles can then be passed through the pump impellers out the discharge.
Q. "What does 'effluent' mean?"
A. Effluent is the term normally used in the dewatering industry to mean any waste material in a liquid form.
Q. "What is a vortex impeller and what does it do?"
A. A vortex impeller handles debris better than other impellers. Due to the design of the impeller itself, a whirlpool, or vortex, action is created to move the material, resulting in less clogs as vortex impellers are recessed and generally do not come in contact with solids at all. By contrast vane, or two-vane, impellers are in direct contact with the solids, and so can be more prone to being clogged. Below is an example of a vortex impeller.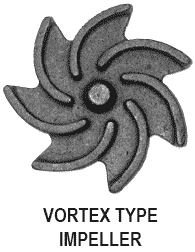 Q. "What does the automatic reset thermal overload protection do?"
A. If the pump gets too hot the thermal overload protection will turn it off until the pump cools down (to prevent damage to the motor). The pump turns back on after it has cooled down enough. This backup protection feature is useful if some debris causes the pump to overheat.
Q. "What does it mean by 'hermetically sealed'?"
A. This means nothing comes in or out of the motor and you'll never have to add oil.
Q. "What does it mean by 'dewatering'?"
A. The pumps are called dewatering pumps because they are made to remove water and pump it somewhere else.
Q. "What's the advantage of a double seal over a single seal pump?"
A. The inside seal provides added protection in case the primary seal should ever fail.
Q. "Why is it called a submersible pump?"
A. These pumps are designed to be placed directly in the water. They draw the water up from the bottom of the pump.
Q. "What is NEMA type 6?"
A. Type 6 enclosures are made for indoor and outdoor use where occasional submersion is experienced. It protects the enclosed equipment from a static head of water of 6 feet for 30 minutes, dust, splashing or external condensation of non corrosive liquids, falling or hose-directed water, lint and seepage.
Q. "What kind of material is 'neoprene'?"
A. Neoprene is a high grade synthetic rubber with these features:
Resists degradation from the sun, ozone, and weather
Performs well when in contact with oils and most chemicals
Remains useful over a wide temperature range
Displays great physical toughness
Fantastic resistance to damage caused by flexing and twisting
Q. "What does it mean by 'shut-off head'?"
A. It means that the pump cannot pump higher (measured vertically) than the listed height (with no friction loss taken into account).