Largest Inventory - Best Service - Lowest Prices
A | B | C | D | E | F | G | H | I | J | K | L | M | N | O | P | Q | R | S | T | U | V | W | X | Y | Z
Same day shipping on in-stock orders placed before 4:30pm Pacific Time M-F
---
---
Frequently Asked Questions
Q. "What are check valves?"
A.Check valves prevent the back flow and cross flow of water. With a check valve water can only flow one direction. Check valves are recommended to prevent by-pass when a Thermixer is installed with a downstream shut-off device.
Q. "What are screwdriver stops?"
A.With stops, it means the valve has shut-offs for the water line so you don't have to shut off water to the entire house to work/repair parts on the shower/tub system.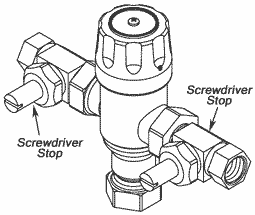 We hope that we have helped you on this page with Thermostatic Mixing Valves,
and thank you for helping to make PlumbingSupply.com® the most famous Internet plumbing supplier.
Fun, inspirational quote of the day:
"Perfect love is rare indeed - for to be a lover will require that you continually have the subtlety of the very wise, the flexibility of the child, the sensitivity of the artist, the understanding of the philosopher the acceptance of the saint, the tolerance of the scholar and the fortitude of the certain."
- Leo Buscaglia
---
Is there something else that you are looking for?
OR - find plumbing supplies starting with: A B C D E F G H I J K L M N O P Q R S T U V W X Y Z
---