Largest Inventory - Best Service - Lowest Prices
A | B | C | D | E | F | G | H | I | J | K | L | M | N | O | P | Q | R | S | T | U | V | W | X | Y | Z
Same day shipping on in-stock orders placed before 4:30pm Pacific Time M-F
---
---
Frequently Asked Questions
Q. "What are check valves?"
A.Check valves prevent the back flow and cross flow of water. With a check valve water can only flow one direction. Check valves are recommended to prevent by-pass when a Thermixer is installed with a downstream shut-off device.
Q. "What are screwdriver stops?"
A.With stops, it means the valve has shut-offs for the water line so you don't have to shut off water to the entire house to work/repair parts on the shower/tub system.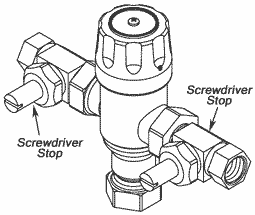 We hope that we have helped you on this page with Thermostatic Mixing Valves,
and thank you for helping to make PlumbingSupply.com® the most famous Internet plumbing supplier.
Fun, inspirational quote of the day:
"If you are out to describe the truth, leave elegance to the tailor."
- Albert Einstein
---
Is there something else that you are looking for?
OR - find plumbing supplies starting with: A B C D E F G H I J K L M N O P Q R S T U V W X Y Z
---