Frequently Asked Questions
Q. "What products should I use to clean my new solid plastic toilet seat?"
A. The manufacturer recommends a light solution of mild soap and water. Products like pine oils, essential oils, chlorine, acid, scouring powders, detergents, disinfectants, bleach, or products in aerosol cans should never be used as they can damage the finish and color of the seat. Also never use scouring pads as they can scratch the seat. It is our suggestion to always follow manufacturers suggested cleaning methods to maintain the seats.
Q. "One of the colors that I see above looks exactly like my old colored toilet seat. If I order that colored toilet seat will the color be an exact match and like the color that I see on-line on this page?"
A. Unfortunately, every computer monitor and browser will show slightly different colors so we cannot guarantee that the colored toilet seat you see on your monitor will be the same color we see. So again, the toilet seat we ship you may not be an exact match. To make sure that your toilet seat is an exact match, we recommend that you order our "Match Your Color" toilet seat chips instead.
Q. "Which material do you feel makes a better seat, plastic or wood?"
A. The (pressed) wood seats that are manufactured are generally well made. Wood seats don't tend to "wiggle" much and should last 5 - 20 years (depends on usage and cleaning methods). If you drop the seat's lid (cover) a lot, the paint will wear off. Plastic seats come in many grades and thicknesses. The lower priced ones tend to "wiggle" and move around while you are sitting on them. We suggest that "if" you are going to buy a plastic seat, you pay extra and get a top quality slow closing seat with sta-tight hinges. The paint won't wear off and a good quality, slow closing plastic toilet seat with sta-tight hinges can't be beat. They are more expensive but well worth the price.
Q. "Why are there so many whites?!?! What is the difference between White, Cotton White, Crane White, etc.?"
A. Just like when you paint your house or purchase clothing, there are varying shades of "white" for toilet seats too. We strive to offer our customers the most comprehensive selection of colors so you can match your toilet almost as exactly as possible. With some whites, it can be difficult to tell any different, but with others the difference is obvious. For example, Cotton White is a Toto color often described as glaringly "white" white. It's very close to Kohler, Briggs, Mansfield, and Gerber versions of white. Most people feel it doesn't match American Standard's white as well as they would like. The "White" seats on this page coordinate well with American Standard porcelain fixtures. Naturally, all of this will depend highly on the lighting in the room and personal preference, just like any other color choice.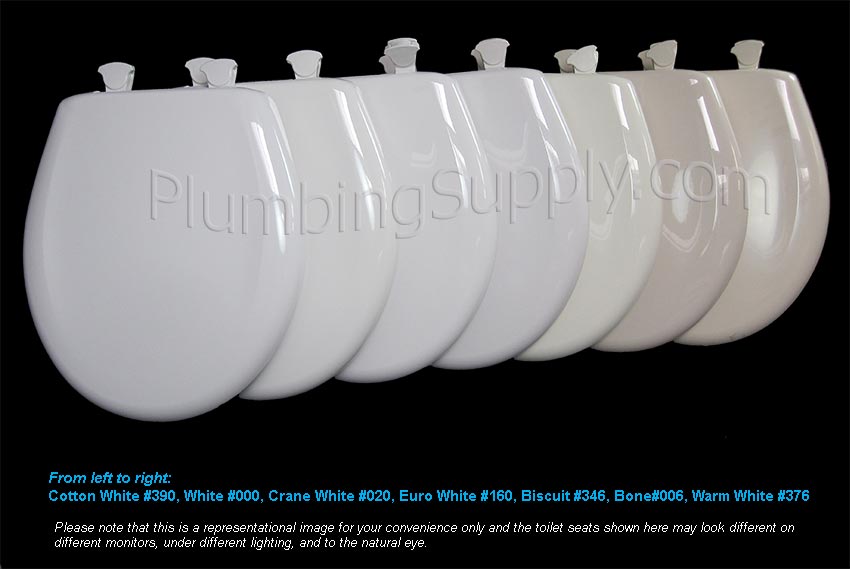 click for larger view