Largest Inventory - Best Service - Lowest Prices
A | B | C | D | E | F | G | H | I | J | K | L | M | N | O | P | Q | R | S | T | U | V | W | X | Y | Z
Same day shipping on in-stock orders placed before 4:30pm Pacific Time M-F
---
---
Frequently Asked Questions
Q. "How does the Lazy-Hand Water Test Gauge work?"
A. Install the gauge on a hose bibb and leave for as long as you'd like. One needle of the gauge will read the current pressure. The second needle is the "lazy hand" which will need to be adjusted by moving the knob on the front of the unit. Adjust the "lazy hand" to where the pressure currently is showing on the gauge. Over night or over time, the "lazy hand" will be moved by the needle reading the pressure when there is an increase in pressure. If the pressure is decreased, the lazy hand will stay where the peak pressure occurred. The "lazy hand" will stay at that peak reading until you manually reset it.
Q. "I have heard using mechanical plugs can be dangerous. Is this true?"
A. YES! EXTREME CAUTION must be taken when using mechanical plugs! Plugs used in conditions under back-pressure with a compressible media, such as air, can cause severe bodily injury or death may occur if the plug slips or fails for any reason. PEOPLE MUST STAND CLEAR while in use. Install only in a clean dry pipe. Failure to heed these warnings may result in serious bodily injury or death. Consult a professional engineer to determine how to safely block mechanical plugs when using air as a test media.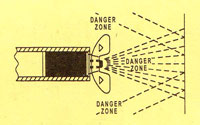 We hope that we have helped you on this page with plumbing testing products,
and thank you for helping to make PlumbingSupply.com® the most famous Internet plumbing supplier.
Fun, inspirational quote of the day:
"Fear has many eyes and can see things underground."
- Miguel de Cervantes
---
Is there something else that you are looking for?
OR - find plumbing supplies starting with: A B C D E F G H I J K L M N O P Q R S T U V W X Y Z
---