Buying a new kitchen faucet can be quite the chore if you don't have a clear idea of what you want or what exactly you should be looking for. When you aren't prepared to simply choose the best-looking option within your budget (a strategy that'll likely have you looking for another replacement soon), the many styles and options available can make finding the perfect fit for your kitchen a challenge. But don't fret: it's not too hard to cut through the noise and find the one!

click any link below to jump directly to that section
---
New Faucet, New Sink, or New Kitchen?
The first thing you'll want to figure out is the mount-type you need (or want): sink deck, countertop, or wall. This depends on whether or not the sink is going to be new as well - a new sink gives you more freedom to choose where the faucet goes (especially if it's part of a wider remodel or new build). If you're only replacing the faucet, you'll largely have to abide by the existing installation.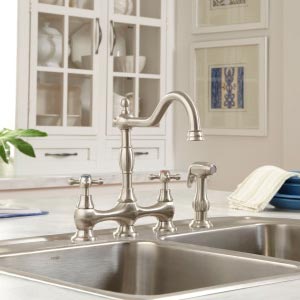 Sink Deck Mounting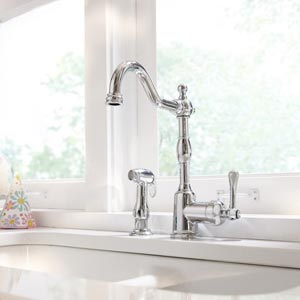 Countertop Mounting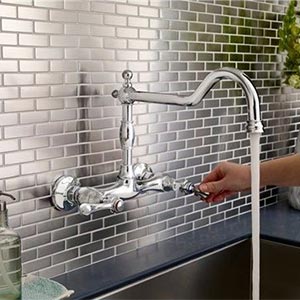 Wall Mounting
You'll also need to know how many holes are available on the sink deck or countertop, or if it's possible to drill more should your dream faucet demand it. Most single handle faucets will require only one hole, while two-handle faucets will require two or three. Additional holes may be needed for things like air gaps, filter faucets, and soap dispensers - so count carefully!
For a New Sink
If the faucet is for a new sink (and won't be mounted on the wall), hold off on the sink until you find the faucet you want. Why? With most sinks, you can specify the number and location of holes on the sink deck - leaving you free to pick nearly any (deck-mounted) faucet you see. Purchase the sink too soon, and you're stuck with the configuration originally selected.
Look out! Some sink materials allow for extra holes to be drilled at home, and may even come with scored knockouts to make the process easy. But due to the risk of cracking and damage - particularly with fireclay, cast iron and natural stone sinks - creating your own holes should be avoided if possible.
Likewise, faucets being installed in a new countertop should also be decided upon before finalizing the counter installation to make sure holes are drilled where they're needed (some countertops can be difficult to modify on your own).
Pro Tip: Have a dishwasher? Air gaps are not required in many places (the "high loop" having been deemed sufficient), but we still think they're your best bet in preventing dirty dish water from making it into your home's clean water supply. If you need (or are required to have) one, remember that this will require an additional hole on the sink deck or countertop.
For An Existing Sink
Finding a new faucet for an old sink brings compatibility to the fore. What if you find your dream faucet, but it requires another hole in your antique cast iron sink? Unless you're willing to take the risk of drilling into the deck (or can pay for a pro to do it), you'll need to keep looking.
Should the faucet you desire require fewer holes than your sink already has, it's much easier to deal with: escutcheons, base or deck plates, and faucet hole covers are available to cover the hole with an attractive finish. Some faucets can be ordered with extended deck plates to cover existing holes on either side of the faucet. If only one hole is left exposed, consider adding a soap dispenser or even a water filter and faucet.
Be careful when choosing escutcheons or plates to cover holes: with some installations, a larger cover can bump right up against the wall, creating a tiny space that will soon start collecting water and grime. As you might know from experience, these little spaces are nearly impossible to clean effectively.
Wall-Mounted
Interested in upgrading to a wall-mount faucet? You'll want to make sure that the location of your sink as well as the studs in the wall is such that the faucet can line up with the centerline of the sink (or at whatever point you want it) and that the handle(s) will turn completely. In some cases, studs will need to be relocated.
If the wall behind your sink is an outside wall and you live in a cold winter climate, you should probably go another route: water supply pipes in outside walls can easily freeze when temperatures drop. Insulating the pipes can help, as can heat cables, but there are no guarantees. If you choose to proceed, we recommend being prepared for the worst.
Secondary Faucets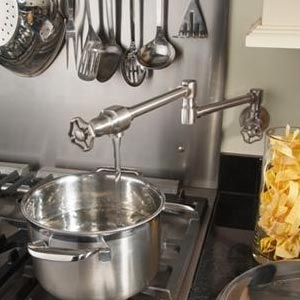 (photo courtesy of HomePortfolio)
When one faucet just isn't enough for your busy kitchen, it may be time to add another. Bar or prep faucets are smaller faucets for smaller sinks, typically installed in kitchen islands and bar counters. Anyone who's used one - even just helping out at a relative's on Thanksgiving - can attest to their value, despite the cost of needing additional plumbing hookups and a bar/prep sink. Space out the kitchen, dole up the work, and save tons of time - or add the finishing touch to your bartender act. Take care to pick a bar/prep faucet that compliments the main faucet - because of their location, these faucets can easily overpower the kitchen aesthetic.
Pot-filler faucets are often wall-mounted (though countertop versions are out there) above the stove for quick and easy filling of large pots for soup, pasta, and other cooking needs. You'll obviously need to have a water supply in the wall (which could be an undertaking, depending on the kitchen and plumbing layout), as well as careful measurements from the mounting area to ensure the faucet will reach where you need. The best pot fillers will have articulated spouts for total flexibility. If you only need something simple, consider a "wok faucet" - these are typically just a straight spout coming out of the wall.
Pro Tip: Whatever the mount type or faucet, make sure there's enough room behind/around the handles to allow their full range of motion. For tight installations, look for a faucet whose handles only move forward.
Size
Once you've figured out what type of mount and installation will best work in your situation, you can move on to the size and reach of the faucet. Most of this will be dictated by the size of the sink, but there are significant design choices that can be made.
The height of the faucet is typically the dimension most are concerned with, since it determines the size of cookware that can be easily maneuvered and washed inside the sink basin. "Faucet" or "spout" height can refer to either the distance between the base and the highest point on the faucet, or the distance between the base and where the water actually exits the faucet outlet - be sure to check the full dimensions of any faucet you're interested in to make sure the height being advertised is the height you're concerned with. A high-arc faucet, for example, may measure 12" at its highest point, but only 8" from base to outlet.

The "arc" of a faucet refers to the height and curve of the faucet spout. High-arc (aka "gooseneck") faucets are typically 8 or more inches tall: ideal for those regularly handwashing large pots and pans, or who simply want more space to work with above the rim of the sink. If you have shelving, low cabinets or a windowsill directly above/behind the sink, make sure to measure the space available so you can find a faucet that fits. If you treasure the view from the window above your sink (or you really like your tile backsplash), be sure the faucet you want isn't so tall or distracting as to obstruct it.
Helpful Hint: Watch out for splashing! High-arc faucets often rest well above the sink, and holding hands or dishes too close to the spout can result in water spraying onto the counter or floor - particularly with shallow sinks. If you have a shallow sink - or a habit of putting things close to the faucet spout - you may be better off with a faucet of lesser arc.
Low-arc faucets generally go no higher than 8" from the deck and come up at a 45° angle. Great for smaller sinks and spaces, these faucets are best for those that don't often wash large items or don't necessarily want the faucet to be a focal point in the kitchen design.
Just as important as the height is the reach of the faucet - how far the spout extends into the sink. The ideal length depends on you and the sink. How far do you need the stream of water to reach to hit all points of the sink (and would a pull-out sprayer or side sprayer make up for any shortcoming)? Where will your arms (and neck, and back…) be most comfortable for extended periods? Spouts that don't reach far enough forward make you reach further into the sink, potentially leading to aches and pains. Spouts that come too far forward can also be uncomfortable, and splash water out of the sink - especially if the water comes out at an angle.
Pro Tip: If you're unsure about this, measuring from the center faucet hole (where the spout comes out of the sink/counter/wall) to the center of your drain (or your sink bowl if you have offset drains) can help give you an idea of how long your reach should be.
Just choose your options below and we'll show you our most popular faucet models that meet your criteria! You can also browse our complete kitchen faucet selection to find the right faucet for your home.
Select number of mounting holes
Select your mounting type
Mounting spread (for 2 or 3 holes)
Most Popular Models
Construction
Beyond the fun stuff like design, features, and finish is the underlying construction of the faucet - the materials that make it up, and the mechanisms by which it operates. This is where the great faucets are separated from the merely "good" ones. The long and short of it? Look for a solid brass or stainless steel faucet with ceramic discs, and you can't go wrong.
Faucet Material
The most common materials used to make faucets are brass, stainless steel, plastic, and zinc alloys. The latter is essentially low-grade brass, and is what "metal construction" usually refers to. Known as Zamak (or Zamac), these alloys are comprised of zinc, copper, magnesium and aluminum in varying degrees, creating a relatively low-quality metal faucet. These are often chrome or brass-plated. While these faucets are cheaper than their solid brass or steel counterparts, they're not nearly as durable.
Plastic faucets (and most faucets with plastic components) are also less expensive than all-metal models, but far less durable. While metal alloy faucets can be a serviceable - if short lived - option for those on a tight budget, plastic faucets should be avoided. This is especially so in areas with hard water - mineral deposits will wear plastic components sooner and more severely than metal.
In efforts to eliminate lead, some manufacturers have started to use PEX inside their faucets - which appears to be the exception to the "avoid plastic" rule. PEX has proven to be a reliable material, and PEX-infused faucets have received positive reviews.
Brass is an alloy of copper and zinc, and has been the most commonly used faucet material for some time. Solid brass faucets are renowned for their durability, and are your best bet for a high quality faucet that will last for many years (though stainless steel has an edge in corrosion resistance). Watch out for inferior brass-plated faucets, which as mentioned above will have a lower-grade metal underneath.
Stainless steel has seen an increase in residential use, due to its lack of lead (even "lead-free" brass can legally contain up to 0.25% lead) as well as its superb corrosion resistance. Keep an eye out, though: don't bother with any faucet that doesn't use type 304 stainless steel (which contains greater amounts of chromium and nickel for added strength and quality).
Valve/Cartridge Type
Another important aspect of the faucet is the type of cartridge it uses. Older faucets relied on compression or ball valves to control the flow of water, but manufacturers have moved away from them in favor of the far more reliable cartridge system. Compression faucets utilize rubber washers that degrade fairly quickly, leading to leaks and poor performance. Ball-type faucets are composed of several parts, each of which are potential points of failure - as evidenced by their reputation for leaking.
Your basic faucet cartridge is constructed of brass and/or plastic, and is an improvement over compression or ball mechanisms in both durability and ease of use. Found in both single and double handle faucets, cartridges are typically easier to repair or replace than their predecessors.
Ceramic disc cartridges are the latest - and best - innovation for controlling a faucet's flow. Comprised of two ceramic discs (one fixed and one that rotates above it), they operate with a smooth 1/4 turn making them the best option for those who have difficulty operating other faucet types. Ceramic is an incredibly durable material - so durable that many ceramic disc faucets come with an extended or even lifetime warranty. Though more expensive, you will not regret the purchase.
Special Features
The most popular faucet feature lately is an integrated pull-down or pull-out spray. Sleeker than the traditional side spray, these allow for the ultimate in coverage and flexibility, and free up space on the sink deck or counter. The best pull-sprays will use braided nylon or even braided stainless steel sheathing on their hoses for extended life.
When looking for a pull spray faucet, take extra care to read listings and reviews carefully. Because they're handled more than a traditional faucet, the build quality of these faucets has to be superior if they're to hold up to the rigors of a busy kitchen.
If you're more interested in a side sprayer, be sure that your new sink will have the correct number of holes, or that you can successfully add a hole to your existing sink.
ADA-compliant faucets will be labeled as such, adhering to the various specifications regarding range and ease of operation. Be aware that some faucets have multiple handle options, and often only one of those options (usually lever or wrist blade handles) will be ADA-compliant - so purchase carefully! Sinks have even more ADA standards to meet, so make sure everything is up to snuff there, as well.
Touchless faucets are a dream come true for germaphobes, and another option rising in popularity. Rather than having to physically manipulate the faucet controls when your hands are covered in raw chicken, a simple wave in front of the sensor (or with some models, a light tap with the wrist/forearm - similar to a touch lamp) turns the faucet on and off. These faucets do require power, supplied by batteries or an AC power adapter; some models will allow for either. You'll need to make sure you have an electrical outlet nearby, or spare batteries on-hand.
Finishes
Outside of aesthetic considerations, there isn't much to choosing a finish. Chrome is indeed the strongest, longest-lasting of all finishes - but won't always fit in with your design scheme. If fingerprints and water spots annoy you, you might want to stay away from it and other shiny finishes. Matte finishes do a good job of masking such things, but beware of water spots on darker options.
For the longest-lasting finish, look for one applied using PVD (Physical Vapor Deposition). This process uses vacuum pressure and electric charge to create a much stronger bond between faucet and finish.
Pay close attention to manufacturer care suggestions (if they've been lost, look up care techniques online that are specific to your manufacturer/finish): using the wrong cleaning chemicals is one of the main causes of finish degradation, and it's very easy to do. As a general rule, you should avoid premade store-bought cleaners (with the exception of specially-formulated products like FaucetBrite), opting instead for homemade solutions utilizing soapy water or vinegar. Always use a soft cloth, sponge or paper towel - avoid abrasive pads and sponges.