Frequently Asked Questions
Q. "Will these basic seats fit my toilet?"
A. These basic toilet seats are designed to fit most normal, everyday, typical, "standard" round or elongated toilets, though they will not fit all toilets. If you are unsure if you have a typical toilet, please contact us first.
Q. "Why are there so many whites?!?! What is the difference between White, Cotton White, Crane White, etc.?"
A. Just like when you paint your house or purchase clothing, there are varying shades of "white" for toilet seats too. We strive to offer our customers the most comprehensive selection of colors so you can match your toilet almost as exactly as possible. With some whites, it can be difficult to tell any different, but with others the difference is obvious. For example, Cotton White is a Toto color often described as glaringly "white" white. It's very close to Kohler, Briggs, Mansfield, and Gerber versions of white. Most people feel it doesn't match American Standard's white as well as they would like. The "White" seats on this page coordinate well with American Standard porcelain fixtures. Naturally, all of this will depend highly on the lighting in the room and personal preference, just like any other color choice.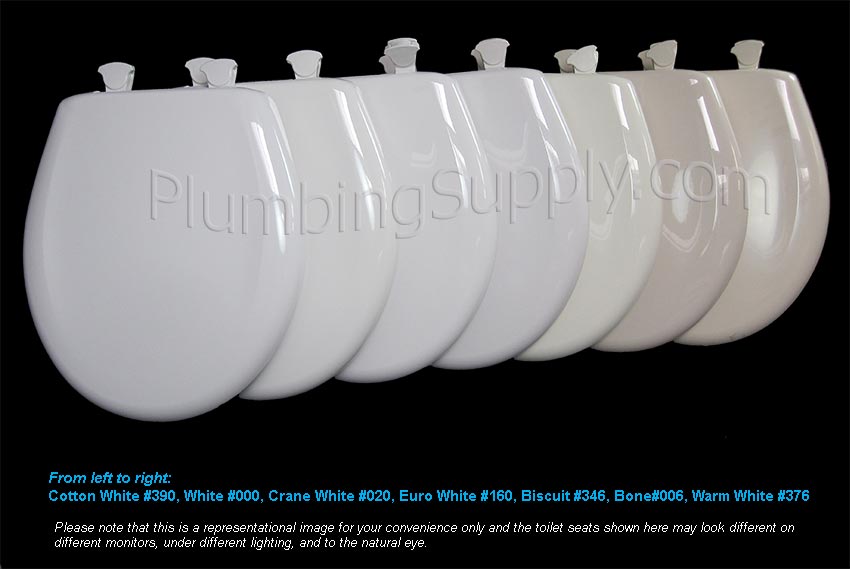 click for larger view