Frequently Asked Questions
Q. "What does 'swiveling seat disks' mean?"
A. Swiveling seat disks reduce friction on the rubber washer which helps to extend the life of the washer and lowers maintenance costs.
Q. "What is a 'backsplash' faucet?"
A. Backsplash faucets are designed for commercial/restaurant sinks that have a backsplash.
Q. "What does 4"CC or 8" CC mean?"
A. It means the faucet has either 4" or 8" centers. All faucets are measured from the center of the cold inlet to the center of the hot inlet. CC is an abbreviation for center to center. This measurement must match the distance the holes in the sink, or the pipes coming out of the wall, are apart from each other where the faucet will be mounted.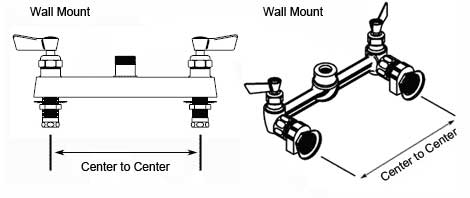 Q. "How do I know if I need 1/2" Fip inlet or 1/2" Nom. (5/8" o.d.) inlet angle stops?"
A. Angle or straight stops have an inlet that is either 1/2" fip (female iron pipe) or 1/2" Nom. (5/8" o.d.) copper compression. The 1/2" fip stops are for attaching to threaded pipe nipples. The copper compression fittings are designed to attach to the smooth outside surface of copper pipe. 5/8" o.d. compression would fit a 1/2" nominal (inside diameter) piece of copper.
Q. "What is the difference between 'nominal' dimensions and 'outside diameter (OD)' dimensions?"
A. Nominal is the term used to describe most pipe and fitting measurements in the plumbing industry. Nominal refers to the inside diameter measurement of the pipe. The actual inside pipe measurements will vary slightly due to the wall thickness of the pipe, so it is referred to as "nominal" meaning a small variance of size. The outside diameter (OD) dimensions refer to the actual outside diameter of the pipe. The outside diameter dimensions of pipe are a constant size which allow pipe fittings to be used with the same type of piping with multiple grades of wall thickness.