Frequently Asked Questions
Q. "What is the difference between the economy, deluxe, and aerospec models?"
A. Here are the differences between the three sinks:

| | |
| --- | --- |
| Economy models (MF) | - 16 gauge 304 stainless steel bowl, 430 body |
| Deluxe models (3F) | - 16 gauge 304 stainless steel |
| Aerospec (2F) | - 14 gauge 304 stainless steel, 10" backsplash instead of 7", and legs are cross-braced with aluminum castings |
Q. "What does width and length refer to?"
A. Width refers to front to back and length refers to side to side.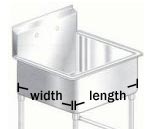 .
Q. "Where are these sinks made?"
A. Aero sinks are proudly made in the United States.
Q. "What does "NSF Approved" or "NSF Listed" mean?"
A. When a product is NSF certified or listed means that NSF has reviewed the Product, most often through a sampling of the Product; they have determined that the Product complies with the current "Standard"; and has conducted or will conduct audits to determine whether the Product continues to comply with the Standard.
Q. "Are these sinks NSF approved?"
A. Yes, all of the sinks shown on this page are NSF approved.
Q. "Are these sinks considered "green" or "eco-friendly?"
A. In order to lessen the impact on the environment, these sinks are made of up to 70 percent recycled materials.
Q. "Please explain what you mean by gauge?"
A. The gauge (also sometimes noted as "gage" or "ga") is the measure of the thickness of the steel; the lower the number, the thicker the material. Commercial kitchen sinks are often 18 gauge. Aero uses heavy duty 16 gauge stainless steel for Economy and Deluxe models to easily withstand the rigors of the commercial kitchen. For extra busy high volume kitchens, Aero offers 14 gauge Aerospec series sinks for the ultimate kitchen sink.
Q. "Please explain what you mean by true gauge?"
A. The gauge (also sometimes noted as "gage" or "ga") is the measure of the thickness of the steel. Some stainless steel sinks are "deep drawn," which means a sheet of stainless steel is formed into a sink. This process naturally creates slightly thinner spots in the corners as the material is stretched into place. Aero commercial kitchen sinks are fabricated to keep the original material gauge consistent throughout the sink, without thin or weak spots.
Q. What do the different types of stainless steel (304, 316, etc) mean?"
A.The term "stainless steel" refers to specific grades of steel that contain more than 10% chromium. Stainless steel may also include a variety of other elements (such as nickel, titanium, molybdenum, etc); it resists corrosion and is generally a stronger, more reliable steel. The most common grades of stainless steel are:

Type 304: Aside from having a higher content of chromium than most other types of stainless steel, type 304 also contains nickel; this enables it to withstand most ordinary corrosion in architecture, is durable in typical food processing environments, and resists most chemicals.

Type 316: Similar to type 304, but also contains a small amount of molybdenum, which is an alloy element #304 does not contain (but one that provides even stronger resistance to some deterioration). Types 304 and 316 are grades of stainless steel that are most often used in plumbing, as well as in the manufacturing of kitchen utensils and sinks.

Type 409: Does not contain virtually any nickel at all, but also is the stainless steel that contains the least amount of chromium. Type 409 is more suitable for high temperature applications, which is why it's often used in automotive trim and exhaust systems, or hot water tanks.

Type 410: Also does not contain any significant nickel; its primary difference to type 409 stainless is characterized by the use of heat treatment for hardening and strengthening. Type 410 is not appropriate for severely corrosive applications, but used instead in environments that require high strength; this is why it's the type of stainless steel that's often used in surgical equipment.

Type 430: Another plain-chromium stainless steel, similar to type 409, but is usually used in decorative applications.