Frequently Asked Questions
Q. "What does CTS mean?"
A. CTS stands for "copper tube size" which is a nominal pipe size. This means that the outside diameter will be 1/8" bigger than the "size" of the pipe. For example, 1/2" CTS has an actual o.d. of 5/8", 3/4" CTS has an actual o.d. of 7/8", and 1" CTS has an actual o.d. of 1-1/8".
Q. "Do you offer any other push connect fittings?"
A. Yes, we also offer these great quick connect (push to fit) fittings: ProBite® fittings, SharkBite® fittings and Insta-Loc™ push-fit ball valves. If you are looking for other fittings and/or tools, please see our pipe fittings index page.
Q. "Can I plumb these John Guest quick connect fittings behind the wall? And will I need an access panel or box?"
A. Yes, these John Guest fittings can be plumbed behind the wall. The fittings do not require an access panel unless they are used in a concrete slab application.
Q. "What are the PEI series Speedfit quick connect fittings made out of?"
A. The fittings are made out of PEX (Polyethylene cross linked) with the exception of the brass and polysulfone male adapters.
Q. "Can these Speedfit quick connect fittings be used for hydronic heating?"
A. Yes. If using PEX pipe the fittings must be used with an insert fitting. Copper pipe will not require an insert fitting.
Q. "Can these John Guest push-in fittings be buried in soil?"
A. No, we do not recommend burying the fittings.
Q. "Why do some of the quick connect fittings say 'spigot' and what does it mean?"
A. A "spigot" is the term used for a plastic, non threaded, male end of a fitting that is the same size as the pipe used to fit into the female or hub end of the same pipe sized fitting. The spigot end will fit into (inside) a "push-fit" fitting, such as a tee or coupling or elbow. This spigot end is used in place of pipe to help reduce the need to buy extra fittings.
Q. "Do I need to use a pipe insert every time I connect a PEX tubing to a fitting?"
A. Yes, the inserts are to be inserted inside the end of the PEX tubing and help ensure that the shape of the PEX tubing is kept circular, making for a better seal between the outside diameter of the pipe and the 'O' ring. They also make PEX tubing more rigid, helping prevent 'weeping' past the 'O' ring if a side load is applied.
Q. "How do I disconnect these quick connect fittings?"
A.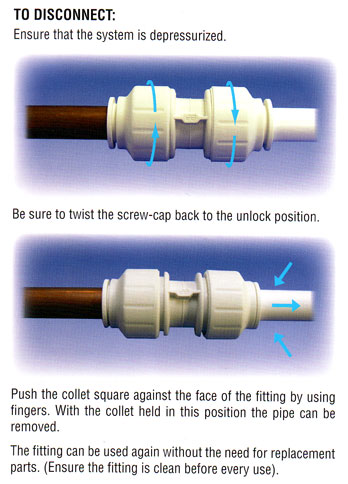 Q. "What does it mean to have ANSI Certification for lead free plumbing products?"
A. Laws requiring plumbing products that come in to contact with drinking water to be essentially lead-free (0.25% weighted average) have been passed in California, Louisiana, Maryland, and Vermont. In order for companies to ship these plumbing products to locations in CA, LA, MD and VT, they must be ANSI certified lead free.
Q. "What is CA AB 1953, LA Act No. 362, MD HB 372, and VT S.152 and how is this different from previous low-lead legislation?"
A. The United States Environmental Protection Agency (EPA) regulates the amount of lead in drinking water under guidelines established in the Federal Safe Drinking Water Act (passed in 1974; amended in 1988 and 1996). This Act defines "lead-free" as not more than 8% lead in pipes and fixture fittings. PLEASE NOTE: Use of the term "lead-free" varies between the new legislation in CA (AB 1953), LA ( Act No. 362), MD (HB 372), and VT (S.152), and in the current Federal Safe Drinking Water Act requirements. In the new legislation for CA, LA, MD and VT only (as of Jan 2013), it will mean 0.25% or less (weighted average). Similar national legislation is scheduled to go into effect Jan 2014.