Frequently Asked Questions
Q. "One of the colors that I see above looks exactly like my old colored toilet seat. If I order that colored toilet seat will the color be an exact match and like the color that I see on-line on this page?"
A. Unfortunately, every computer monitor and browser will show slightly different colors so we cannot guarantee that the colored toilet seat you see on your monitor will be the same color we see. So again, the toilet seat we ship you may not be an exact match. To make sure that your toilet seat is an exact match, we recommend that you order our "Match Your Color" toilet seat kit instead.
Q. "Which material do you feel makes a better seat, plastic or wood?"
A. The (pressed) wood seats that are manufactured today are generally well made. Wood seats don't tend to "wiggle" much and should last 5 - 20 years (depends on usage and cleaning methods). If you drop the seat's lid (cover) a lot, the paint will wear off. Plastic seats come in many grades and thicknesses. The lower priced ones tend to "wiggle" and move around while you are sitting on them. We suggest that "if" you are going to buy a plastic seat, you pay extra and get a thick seat. The paint won't wear off and a good quality, thick plastic toilet seat can't be beat. They are more expensive but worth the price.
Q. "There seems to be a seam or a line in the plastic toilet seat I received. Is this a crack or a weak spot?"
A. Per the manufacturer, there is a line that is sometimes visible at the front of the seat, usually just to the left or right of center. This is known as the "mold line" or "seam line", where the liquid plastic molds (or "knits") together during the manufacturing process. The line is usually more noticeable in darker seats, and runs the length of the seating rim in that spot on the seat. It"s important to note that it is not a weak point in the seat and will be smooth to the touch.
Q. "Why are toilet seats non-returnable?"
A. It is very important for us to be able to promise a brand-new, unused seat to each customer, and if we were to allow returns of toilet seats we simply would not be able to make that promise to every customer. That being said, we strongly recommend checking the color and size of the seat received before removing from the bag to make sure your seat is correct, as for hygiene reasons we cannot allow the return of toilet seats.
Q. "When I received my toilet seat, the manufacturer's box was not sealed and had already been opened. Did you send me a seat that was returned to you by a previous customer?"
A. The seat you received was brand new and unused by anyone before you. When we receive a shipment of seats from our supplier into our warehouse, their boxes are often opened for inspection to make sure the seats are not damaged; we also inspect the seats before we ship them to you, to make sure they're correct and in good condition.
Q. "Why are there so many whites?!?! What is the difference between White, Cotton White, Crane White, etc.?"
A. Just like when you paint your house or purchase clothing, there are varying shades of "white" for toilet seats too. We strive to offer our customers the most comprehensive selection of colors so you can match your toilet almost as exactly as possible. With some whites, it can be difficult to tell any different, but with others the difference is obvious. For example, Cotton White is a Toto color often described as glaringly "white" white. It's very close to Kohler, Briggs, Mansfield, and Gerber versions of white. Most people feel it doesn't match American Standard's white as well as they would like. The "White" seats on this page coordinate well with American Standard porcelain fixtures. Naturally, all of this will depend highly on the lighting in the room and personal preference, just like any other color choice.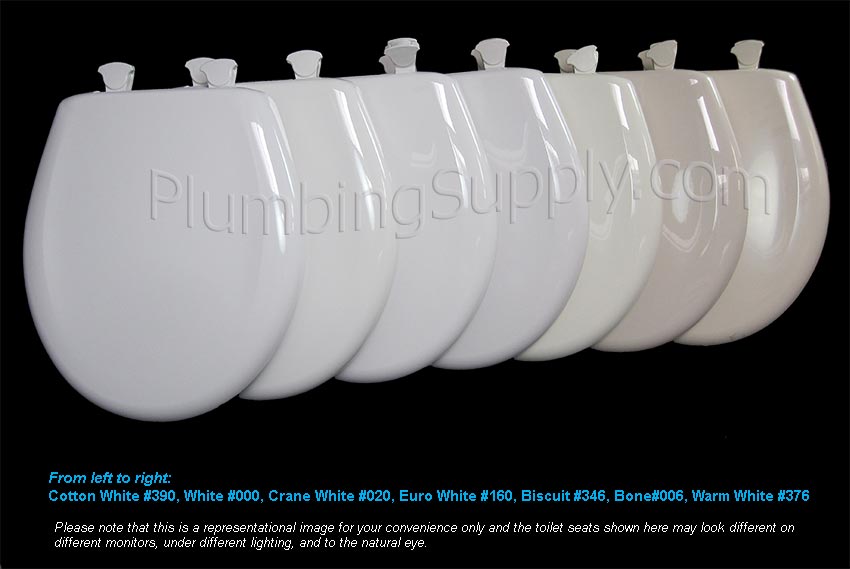 click for larger view